Boehringer Ingelheim and Boryung Pharmaceutical have ended their joint marketing partnership with Pradaxa (ingredient: dabigatran), a new oral anticoagulant (NOAC).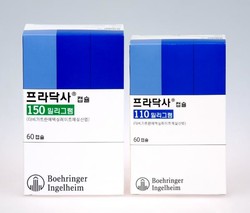 According to the pharmaceutical industry on Monday, the two companies terminated their joint promotion contract at the end of last year.
Pradaxa is an anticoagulant containing dabigatran. NOAC has attracted attention as a drug with less risk of bleeding side effects and more clot prevention than warfarin, an existing anticoagulant. Since the early 2010s, it has replaced warfarin, increasing its market influence.
Boehringer Ingelheim gained approval for Pradaxa in 2011 and released the drug in 2012. The company initially collaborated with Yuhan Corp. The Boehringer Ingelheim Company sold it to large hospitals and the Yuhan Company to neighborhood clinics.
The German pharmaceutical company entered into a partnership with Boryung Pharmaceutical in 2018.
However, compared to competing drugs, the sales results were somewhat disappointing. While Lixiana of Daiichi Sankyo, Bayer's Xarelto, BMS, and Eliquis averaged 50-60 billion won ($41.8-50.1 million) in outpatient prescriptions annually, Pradaxa recorded just under 15 billion won.
With the termination of the joint sale contract, Boehringer Ingelheim decided to sell Pradaxa outright rather than looking for other partners.
However, the outlook for Pradaxa remains uncertain, as it faces challenges from fierce competition, market watchers said.
Lixiana's sales of Daiichi Sankyo and BMS-Pfizer Eliquis topped 80 billion won and 60 billion won in sales, respectively, last year.
According to UBIST data, Lixiana registered 84.8 billion won in prescriptions last year, up 16.3% from 72.9 billion won from 2020, and Eliquis prescriptions also increased by 18.6% to 65.2 billion won.
Eliquis also won a patent dispute with generic drug developers, removing dozens of generic items from the paylist in the second half of last year and recording a significant increase in sales.
In contrast, Pradaxa's sales fell more than 7%, from 16.5 billion won to 15.2 billion won over the same period.
Pradaxa is also facing competition from generic versions after its patent expired last July.
Aju Pharm, Jinyang Pharm, Huons and Intro Biopharma have all been given permission to introduce Pradaxa's generics into the domestic market, threatening to erode Pradaxa's market share further.